NEJM Catalyst eBook: The Clinician Role in Health Care Delivery and Innovation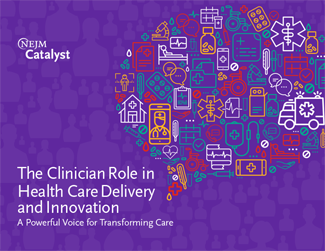 A Powerful Voice for Transforming Care
Clinicians are uniquely positioned to play a central role in transformative health care delivery and innovation – but only if they feel heard and valued. Learn how to boost the clinician voice in your organization and bring about meaningful change.
Download NEJM Catalyst's new eBook, "The Clinician Role in Health Care Delivery and Innovation," to find candid advice and actionable data from our NEJM Catalyst Insights Council. Clinicians who are members of the Insights Council share firsthand accounts of how they raised their voices and effected change in the cost of care, patient engagement and outcomes, the adoption of emerging technologies and new models of care. Coupled with results from a year of Insights Council surveys, this eBook is a comprehensive resource to empower clinicians in your own organization.
INSIDE THIS EBOOK, EXECUTIVES, CLINICAL LEADERS, AND CLINICIANS DEMONSTRATE HOW TO:
Help their organization develop greater leadership pathways and opportunities that result in a stronger clinician voice in all aspects of care delivery and innovation.
Find the compromise between the convenience of care that patients experience with retail health models and the quality of care they receive from primary care.
Use their influence to embed newer technologies such as remote monitoring, telehealth, and analytics deep into their practices to better engage patients.
Enact new and improved processes that range from providing more targeted diagnoses and treatments to relieving overburdened schedules.
NEJM Catalyst eBook:The Clinician Role in Health Care Delivery and Innovation
Retrieved from https://store.nejm.org/signup/ebook2020?promo=OCFEDL09&query=marcom&utm_source=jwlist&utm_medium=email&utm_campaign=ebook2020&cid=DM97548_&bid=247275851